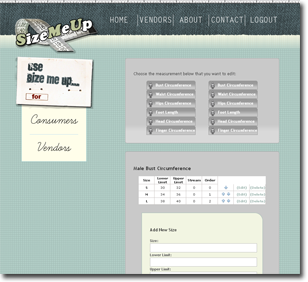 Manage all of your size charts for all types of garments including hats, rings and shoes. Using the Size Me Up™ vendor control panel, it is as easy as point click.
Users can shop with confidence in your online store when they have their size displayed before them!
Once approved, the only step is to add the sizes your store carries one by one and your size charts will be available to all visitors of the site.
If your store has multiple size streams (such as S, M, L and 0, 2, 4 for women) Size Me Up will accommodate your needs.
When you are ready, click the link below to get started with your Size Me Up experience!